Shopify Development
Choose a Shopify web development company that knows how to address customers' needs and business pains. We offer Shopify and Shopify plus solutions for developing an e-Commerce business since 2015.

Our dedicated development team specializes in building and supporting functional and responsive Shopify apps in the shortest possible time and at the best cost.
Learn more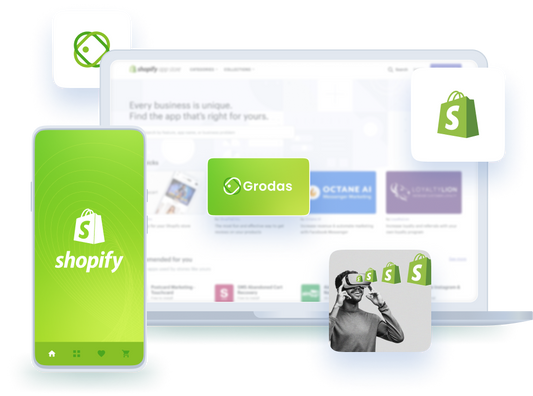 What we can offer
We believe that the client's wants are above everything. Our valuable experience and expertise allow bringing any concept to life.

We offer effective Shopify development services to design and support e-commerce platforms and build user-friendly Shopify apps.
Shopify App Development and Support

Want a quality, functional Shopify app with a modern, user-friendly design? Build your business with us! Our skilled developers know how to create a custom or public application of any complexity. Depending on your needs, we implement PHP, Laravel, React, JS, MySQL, Docker, Liquid, HTML, CSS, LESS, SASS (SCSS), Gulp, Webpack, back end technologies to create a unique application just for you.

Shopify Theme Design

Our Shopify development company uses the most efficient, modern, and functional web design to create bespoke products. We carefully compare the client's demands with the market requirements to get a perfect match. Furthermore, our HTML layouts are well-structured, responsive, and optimized for SEO. Be confident: by choosing us, you will always be on top.

E-Commerce Store Build

Need to build the whole platform from scratch, or develop new features? Our experts will find a solution to help your business take a decent position in the digital field. The Grodas team will easily create and host an online marketplace in the blink of an eye.

Shopify Site Maintenance

A well-run website requires constant support, page load time optimization, and improvements. Entrust us your redesign, fix bugs, microservices implementation, and other related cares of Shopify website maintenance. With us, even the heaviest-loaded web platform will work fast and without breakdowns.

Shopify Store Setup & Configuration

Our experts help customers with the setup configuration of e-Commerce stores and connect additional API services. We also implement modules from other platforms, including mobile apps, payment systems, messengers, delivery services, social networks, analytics systems, external databases, and other services or needs.
Learn more about Grodas services
How We Develop Shopify Products
When creating Shopify software for our clients, we use three simple rules: decency, punctuality, and responsibility.

We respect the customer's time and build the communication process to satisfy our partners. Here are the main steps our team uses in the development process of Shopify projects
Analysis

The Grodas Group team carefully studies the client's requirements, conducts market analysis, and forms the requirements for the final product. At this stage, we provide the client and the developers with a ready SRD (software requirements documents) for the upcoming product and prepare for the next step.

Plan & Architecture

Based on the received documentation, the team creates a high-level system architecture of the future product. After that, we estimate the time frame, calculate the budget and start developing the software.

Development

At this stage, we start to create the product of your dream. An experienced team of qualified experts develops algorithms and writes the code for the Shopify website or app. Once the product is ready, we launch testing, analyze compliance and create technical documentation.

Launch & support

After launching the Shopify platform or releasing a new version, the technical support team gets to work. Our experts make sure the product works properly and is relevant to users. We make improvements, fix bugs, and, if necessary, introduce new features.
Why choose us
For more than seven years in the Shopify development services industry, we have implemented more than a hundred successful projects. Here are just a few reasons why to entrust your business with Grodas Group.
Integration into your project

We provide full integration of our employees into your business processes. Our experts work remotely full-time throughout the project and become part of your team, and you get direct communication with each hired employee.

Optimal solutions

Our experts will select the optimal variant of the business idea implementation based on the client's requirements. We always take care of the quality of the task performance and offer the best solution.

Narrow specialization

The specialists of Grodas Group do not scatter on different tasks. We work in the field of Shopify and e-Commerce only. This approach guarantees the best results.

International recognition

Our team is in the top world rankings among Shopify web development services. According to Upwork review, Grodas Group is one of the top 10 e-Commerce development companies in Eastern Europe, with a 100% Job Success rate.

Flexible collaboration models

Depending on your needs and capabilities, we provide services under outstaff, outsourcing, or mixed model of cooperation. You can take complete control of the work process or receive a ready result on a specific task.

Dedicated specialists

According to Good firms, Grodas Group ranks among the top-5 eCommerce companies in the world. We also have a strong position in the top-10 e-Commerce development companies in Eastern Europe, one of the leading regions of the IT industry. In addition, our team is in the top-50 custom Shopify web development companies.
Benefits of Shopify Web Development Services
There is no need to assemble a separate IT department to get a Shopify development service. Entrust Shopify web development services a qualified 3rd Party to get several benefits at once.
Time and cost safety

Our experienced specialists build Shopify or Shopify plus services in a short time at a minimal cost. Let everyone do what they are best at. You know how to run your business. We know how to develop digital platforms.

Constant communication and feedback

High-quality communication with the customer, meeting deadlines and regular feedback are the priority. We are always in touch and are attentive to our clients' needs. With the Grodas Group, you will always be aware of the project's status.

Personal manager

Every client gets a personal manager responsible for the whole project. Our managers provide professional consultations, set up the communication between the client and the developers, and monitor the deadlines.

A reliable team

Being the top-performers is essential for us. That's why our company deals exclusively with Shopify web development. The Grodas Group experts are the strongest in the stack and constantly upgrade their skills. We offer a flexible and reliable dedicated team that is always ready to discuss the customer's suggestions and implement changes in the project.
What Our Clients Say
Customers from all over the world trust us to develop solutions for their businesses based on Shopify. We won't be baseless: the testimonials speak for themselves.
Incredible developers!

They are skilled and have great communication, they explain what they do and what they are working on. They gave me advice, I loved it!

They were very organized!

The Grodas Group made the whole process seamless. Workflow was very effective. The communication was in real time. Messages and video recordings were used to ensure proper communication. They were very organized and had a system in place.

High-quality work!

I've chosen Grodas for high-quality work, decency, honesty, and punctuality. Grodas team not only performs tasks but also offers interesting solutions!

They have been doing a great job!

Grodas has been successful in developing and updating several applications from the client's Shopify store. Their efforts are one of the driving forces in the client's goal to scale their business.

Grodas did a great job with our website!

Their expertise in Shopify as well as the well-established process from project inception to completion, was very impressive, and communication is clear and proactive. It's a pleasure to work with true professionals.
Our Projects
Creating the new architecture and features, code refactirong, and technical support for Wide Review Shopify application

Technology Stack used for this project:
HTML5, CSS3, JS, Webpack, Sass, Laravel, Liquid, MySQL, Docker

Website speed optimization, theme customization, development of new custom features, website support

Technology Stack used for this project:
Javascript, Liquid, HTML5, CSS3, Gulp, Sass

Integrating the updated design layouts into the website, creating new pages, implementing the new features, and website support

Technology Stack used for this project:
Javascript, Liquid, HTML5, CSS3, SCSS, Gulp
Our team: Overachievers
Since 2015, our Shopify development company has achieved significant success in e-Commerce.

We work for results, and international ranks only confirm this.
7

+

years of experience

100

+

successful projects

20k

+

satisfied users of our apps
TOP 3%

world Shopify agencies on Upwork

TOP 10

e-Commerce building companies in Ukraine (Good Firms rate)

TOP 50

custom software development companies (Good Firms rate)
What are the Advantages of Shopify in e-Commerce?

A dedicated Shopify web development company allows you to safely and reliably implement or customize a project. It helps clients promote their business online quickly and easily without getting bogged down by the technical aspects. In addition, our experts set up SEO so that your product will always be in the top search engines.
How Long Does It Take to Build a Shopify Website or Web App?

We set deadlines individually depending on the complexity of the project and the client's requirements. On average, it takes from a week to 6 months to solve a given task.
How do I Track the Progress of my Project?

We value your time and work according to sprint or scram methods. Once a week, our team holds a call with the customer, makes changes, and tells them about the project's status. Every day the customer gets updates and feedback from us. We use Jira to track tasks or work according to the client's methodology.
How Much Does Shopify Development Cost?

Our developers get $25-$40 per hour depending on the complexity, duration of the project, and the employee's skill level. We also match employee pay to your budget.
How Can I Hire Shopify Developer for Hourly?

You can choose the most convenient model of cooperation. When hiring an outstaff team, our developers are interviewed and temporarily become part of your team. Clients can also select outsourcing where we involve any number of developers and calculate hourly pay.
Interested in getting a deeper consultation with our experts and ordering Shopify development services?
Contact Us