Shopify Store Setup
You're ready to set up your Shopify store but don't know where to start? If you're looking for Shopify setup experts who'll take care of every stage, Grodas Group is here to help! Look at why you should work with us to set up a rockstar Shopify store page!
Let's Set Up a Store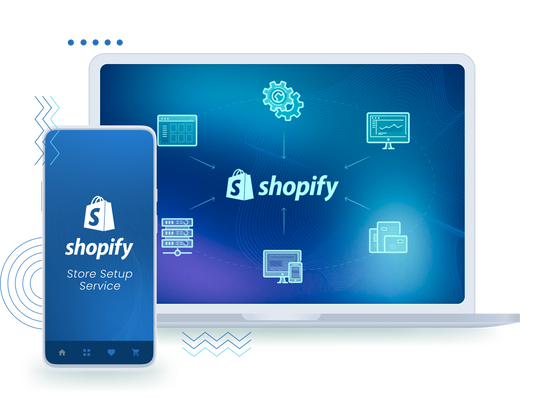 Shopify Setup Services
Shopify theme setup

We help you develop and create an individual theme for your shop. Our team knows how important it is to create a unique page for your Shopify store. We help you customize it as much as possible and stand out compared to your competitors.

Main page and product setup

Our Shopify setup experts help you quickly add all the products to your merchant page. We can also develop the main page for your Shopify store and make it look appealing and engaging for both potential and current customers.

Blog setup

Setting up a blog is a perfect solution if you want to share more than just a product range. We'll help you create a readable, intuitive blog page so your readers can get more value from your Shopify store.

Payment and shopping cart setup

Our team knows how to manage payments and develop a shopping cart for more convenient shopping for all your customers. Having the ability to process a purchase quickly is one of the critical success factors for your Shopify page, and we know how to do it in the best way!

SSL certificate creation

To authenticate your Shopify store identity, consider creating an SSL certificate. It enables an encrypted connection and provides secured online communication. If you want to ensure double page security, we can help you with that!

Basic DNS setting

A domain name system is the representation of your IP address. If you're having difficulties setting up a proper DNS, we'll help you out!

Multi-browser testing

Our professional Shopify setup experts will ensure your Shopify page looks well on all the browsers. We're running quick tests and tracking the page performance on different browsers to ensure you're all set for an effective store running.
Set Up a Store for Me
Our Shopify Store Setup Process
As Shopify setup experts, we have developed a precise process for creating and adding your store page to the Shopify ecosystem.

Our store setup process consists of the following steps:
Primary analytics

We collect all the necessary data and requests from you. We gather all the features and add-ons you need, make our suggestions, agree on the initial outlook of your page, and discuss all the technical aspects of your future store.

Setting up the page

We start developing the page. Our experts add the primary items like products and prices, work on the shopping cart, your page theme, and extra add-ons.

Production release

After all the testing and final checks, we launch your Shopify page. We monitor its performance, see if all the functions are working correctly, and see if the theme shows well.

After-launch support

We need to make sure your Shopify page works smoothly even after the release. Therefore, we offer support services to take care of all the bug fixes, new updates, and adding new features upon your request.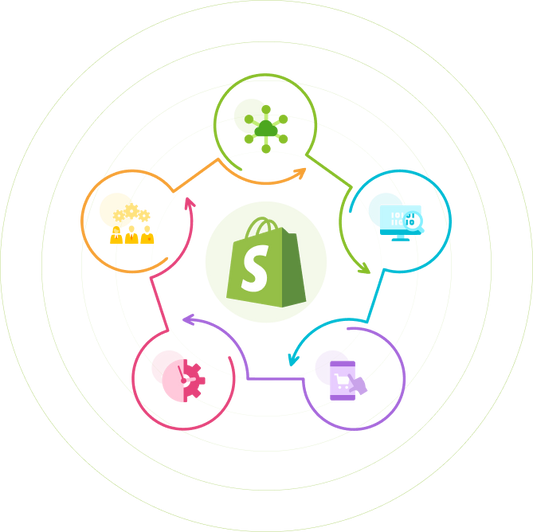 Our Pricing Model
We charge by the hour, and the price may vary between $25 and $40. The final price depends on project complexity and the level of developers responsible for the Shopify setup of your page. Our two collaboration models include outsourcing and outstaffing
Outsourcing

This cooperation model will save you plenty of time for candidate search, interviews, hiring, and managing employees. Delegate these tasks to us, and we'll provide the most suitable professionals. We ensure a quick start to work and effective results with a deadline-friendly approach.

Outstaffing

If you stick to this model, our experts will sign an employment contract with you. As a result, you take complete control over the new employees. You'll assign tasks, set deadlines, provide the workflow plan, and control the quality yourself. In addition, our team will take responsibility for paying the salaries, providing the workplace, and all the necessary tools.
Hire Shopify Setup Experts!
Why Choose Grodas Group?
As a Shopify setup expert, we at Grodas Group offer high-level services for making your Shopify store neat with comprehensive navigation. Our team has completed hundreds of projects so far, and we're familiar with all the features and add-ons available on Shopify. We know for sure which ones your merchant page would need to succeed.

If you're not sure whether you need Shopify setup services, look at why it's worth working with us.
Individual assistance and approach

As a client-oriented company, Grodas Group always considers all your needs and requests. We're well aware of all the features and add-ons available for Shopify stores and can recommend the most appropriate ones to you. With us, you'll save time setting up the page yourself and be able to work on other tasks in between. Our experts will help choose the perfect theme and create a more intuitive interface.

International recognition

Over the years, we've gained clients from all over Eastern Europe. Grodas Group belongs to the top 10 eCommerce software development companies. Plus, we've got a 100% Job Success Rate on Upwork. That's just the beginning of our journey, and we're looking at reaching more markets and regions in the near future.

Deep knowledge and expertise

Our team has over seven years of experience with eCommerce, specifically Shopify page setup and development. We are well-known professionals in that niche, and our trust level among clients is always high.

Flexible cooperation options

Our scope of Shopify setup services includes two types of cooperation — outsourcing and outstaffing. Plus, we can also set up a mixed cooperation model if that fits you more. Choosing one or another option won't affect the quality — we promise the same quality of results despite the cooperation model.
What Our Clients Say
We've helped hundreds of customers with Shopify setup and received plenty of stunning reviews from them throughout the years. Look at some of the testimonials to make sure we're worth working with!
Incredible developers!

They are skilled and have great communication, they explain what they do and what they are working on. They gave me advice, I loved it!

Recommend them!

Thank you very much to the Grodas team for their responsiveness, politeness, professionalism! It is important to note the excellent work of the designer, programmers, and management. The guys are always ready to advise, suggest and find a solution at any time!

Reliable and flexible developers!

I am satisfied with the work of the development team! I would like to note the qualification of the staff, support, and advice at all stages of development! It's nice to work with a close-knit team of people who understand IT! Loyalty in the price range is also pleasing!

Responsibility, sociability!

I was pleased that you treated all requests and suggestions with respect. It's really cool that you can suggest multiple ways to solve the problem - it shows you as experienced developers!

High-quality work!

I've chosen Grodas for high-quality work, decency, honesty, and punctuality. Grodas team not only performs tasks but also offers interesting solutions!
Grodas Group Certifications and Awards
We're proud to have succeeded as Shopify setup experts, and we're not planning to stop! So, if you're still not sure if we're your perfect choice — take a quick view of some of our latest accomplishments. These numbers speak for themselves!
7

+

years in the niche

100

+

successful projects

20k

+

satisfied customers
TOP 3%

of Shopify agencies on Upwork in the world

TOP 10

Ukrainian e-Commerce development (Good Firms rate)

TOP 50

custom software development companies (Good Firms rate)
F.A.Q. about Shopify Store Setup
Service
What is a Shopify Store Setup?

A Shopify setup is a simple and relatively straightforward process of creating a merchant's page in the Shopify ecosystem. It's adding your products, pricing, and a theme to your store. You also configure the back office for shipping, tax, and custom domains.

You don't need any technical expertise to set up a Shopify store. However, to ensure a smooth and effective sales process, you'll need more than publishing products and pricing on your Shopify page. You'll need to set up and update custom add-ons and themes, create new pages, constantly analyze the sales, and provide customer support.

You'll need a proper Shopify store setup service provider aimed at both primary page settings and integrating additional services and add-ons.
How Long Does It Take to Set up Shopify Store?

The amount of work required for a Shopify setup can significantly vary depending on the type of your shop and the complexity of your services, and the add-ons you need for the proper functioning of your store. To define how much time you need to complete all the work, determine the features you'll need to implement to your Shopify page, their amount, and how complex they are.
How to Choose the Right Shopify Store Setup Company?

Here's a quick list of things to consider while choosing the right Shopify setup company:

A professional Shopify store setup company can ensure effective, transparent communication with you; 
A company has plenty of positive reviews and recommendations from previous clients that are publicly available;
Professional Shopify setup experts have a portfolio with a proven track record of successful cases and a vast experience in the eCommerce niche;
A company provides proper after-launch support.