Shopify APP Development
Do you run a business and don't know where to begin with improvement? Why not share this burden with our Shopify app development company? Dealing with responsive Shopify apps, we implement appropriate technologies and develop a user-friendly design. The result? A unique application, just for you.
Create my app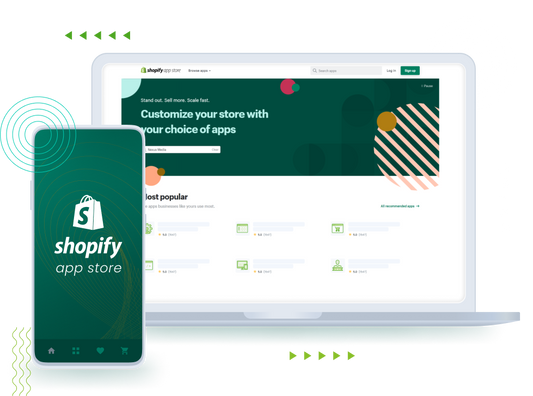 Shopify App Development Services We Provide
Development of Shopify apps from scratch

By choosing a Shopify customization app, your business gets a tool with augmented functional and personalized features.

Maintenance and support of existing apps

The moment we have discussed all the crucial details, our developers are there to maintain your existing app and run it smoothly.

Code refactoring and migration of an app to another tech stack

The tech stack is progressing really fast, and apps should be updated. If you need to refactor an app code or migrate your PWA (progressive website app) to another tech stack - our developers do this for you with no gaps for your business and no harm to the app's functionalities.
Learn more about our services
Our Shopify App Development Process
Working with Shopify app development means getting more and more experienced in building a transparent work process on the projects of different scale. Our app development expert uses those steps for the Shopify app development process.
Conducting analysis

Our Grodas Group developers start by studying clients' requirements and conducting market analysis. Having these ready for the final product, we hand over the SRD (software requirements documents) for a future app to the customer.

Planning architecture

The data we get from the documentation helps our developers design a high-level system architecture for the future app. Then, we estimate the time frame, calculate the budget and get ready for the most exciting part - developing the app.

App development

Our developers write code and create algorithms for the app. Their valuable expertise and wide portfolio help a lot. To ensure everything runs smoothly, we go to testing the app and analyzing compliance. With the proper analysis of the client's requirements and plan preparation for the future custom Shopify app, we start working on the long-hoped-for product for your business.

Launch and support

A moment to celebrate - the launching of the Shopify app. What can you expect at this stage? When you get the fresh-developed app, we don't leave you on your own with it. We are here to support its proper work, fix bugs, and make necessary improvements with Shopify plugins development.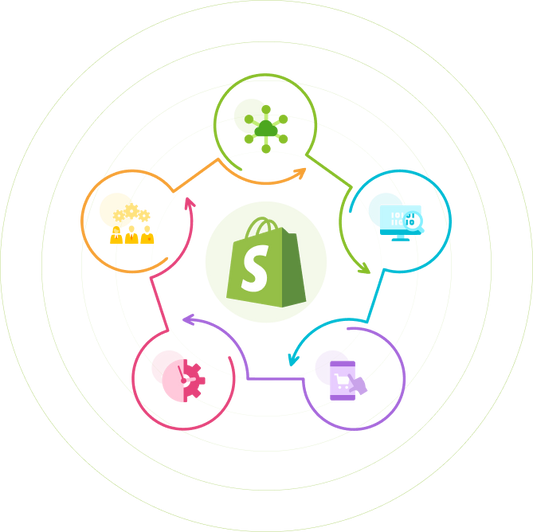 Why Choose Shopify App Development by Grodas Group
Our seven years of working in the Shopify app development services industry got us a portfolio of 100+ successful projects. Here are the reasons for building your business with us:
Taking into account all the business specifications

Direct communication helps us and the business to achieve desired results in joint work. For making a Shopify app, we immerse ourselves into the client's business as much as needed to get better results. Our experts keep in touch with the client while working on the project.

Prioritizing finding the best solutions

It's our mission to find fitting solutions for the business idea integration. Have no doubt, we are good at this. We consider it our duty to find the best options in the matters of budget, time, and quality of the task performance.

Gained proficiency in narrow specialization

We learned what we are the best in - the Shopify industry and eCommerce. Thus, we don't scatter on anything else to provide the best results to those interested in our specialization.

International recognition

Grodas Group is in the top world rankings among Shopify app development services. Also, according to the Upwork review, we are one of the top 10 eCommerce development companies in Eastern Europe, with a 100% Job Success rate. That is something that we are proud of: being recognized by the international community.

Usage of flexible collaboration models

We offer outstaffing, outsourcing, or a mixed cooperation model – depending on your needs. A work process model doesn't influence a result quality for a specific task.

Talented specialists

Our company equals our talents. Their dedicated work gave us a ranking in the Top-10 eCommerce development companies in Eastern Europe, one of the leading regions of the IT industry. Also, according to Good firms, Grodas Group ranks among the top-5 OpenCart companies in the world.
What Our Clients Say
Evidential of trustful relationships with our clients is the feedback we get for our development work on Shopify apps.
Incredible developers!

They are skilled and have great communication, they explain what they do and what they are working on. They gave me advice, I loved it!

Recommend them!

Thank you very much to the Grodas team for their responsiveness, politeness, professionalism! It is important to note the excellent work of the designer, programmers, and management. The guys are always ready to advise, suggest and find a solution at any time!

Reliable and flexible developers!

I am satisfied with the work of the development team! I would like to note the qualification of the staff, support, and advice at all stages of development! It's nice to work with a close-knit team of people who understand IT! Loyalty in the price range is also pleasing!

Responsibility, sociability!

I was pleased that you treated all requests and suggestions with respect. It's really cool that you can suggest multiple ways to solve the problem - it shows you as experienced developers!

High-quality work!

I've chosen Grodas for high-quality work, decency, honesty, and punctuality. Grodas team not only performs tasks but also offers interesting solutions!
Grodas Group Awards
Successful cases of our Shopify app development services altogether with clients' positive testimonials are our soft power. The awards themselves are not to be proud of – they merely mark the quality of our work.

For over seven years of work compiled with 100+ projects, we've got quite a collection:
TOP 3%

of the world Shopify agencies on Upwork

TOP 10

e-Commerce building companies in Ukraine (Good Firms rate)

TOP 50

custom software development companies (Good Firms rate)
F.A.Q. About Shopify Mobile App
Development Services
Why Choose Shopify App Development?

The Shopify platform is very flexible and allows the integration of various creative solutions. By choosing private Shopify custom development of an app, shop owners have a great opportunity to implement any ideas. Also, the public app development allows developers to place their products in the app store and make a profit from its sale.
What's Your Pricing Model?

The hourly rate fluctuates between $25 and 40, What affects the final cost? The complexity of the project, its duration, and the level of the developers. Considering the hourly rate, we also work with the outstaff and outsource model.
How do I Track the Progress of my Project?

We have an individual approach to working with each client, but we mainly use Scrum based on sprints. Every week before starting a new sprint, we have a call with the client. You can track the progress of developers in Kanban and Jira.
Can I Hire Shopify App Developer for Hourly?

Yes, you can. Outstaffing and outsourcing work models aim at this type of cooperation.
What are the Advantages of Outsourcing Shopify App Development?

We take on all the work of managing. We setup the app development process, from gathering the smallest needs like developing an app theme and defining the main goal to testing, uploading to production, and support.

How Long Should I Wait for my Shopify App?

From a week to 6 months, depending on the project's complexity and requirements.

Choosing a selection results in a full page refresh.
Opens in a new window.