Shopify Theme Development
Looking for Shopify theme experts to create a unique design for your merchant page? If you want to make a memorable impression on your potential and existing customers, you've landed on the right page! Our team at Grodas Group will design a rockstar theme for your Shopify page.
Create my theme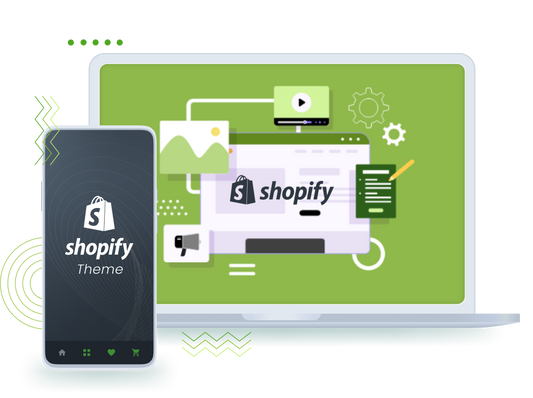 Shopify Theme Development Services
Custom Shopify Theme Development

We develop a perfect theme for your Shopify page based on the design template or ideas you provide us with. Being an experienced Shopify theme development agency, we pay attention to your branding, tone of voice, and target audience to ensure you'll engage the right people. Your merchant page will look more professional, appealing, and trustworthy — exactly what others want to see while entering your page.

Theme Setup and Customization

We can either develop a Shopify page theme from scratch or help your existing one get a personality and a story. Your business needs are our top priority — that's why we listen carefully to your suggestions and deliver just what you need. Personal touch included! Your page theme will stand out among your competitors.
Create A Theme For Me
Our Shopify Theme Development Process
Shopify customization is essential for every client as it shows what each brand is all about. Our team understands that and tries to deliver unique, consistent, and high-quality results. As a company with over seven years of experience on the market, we have developed a well-oiled step-by-step process — comprehensive and transparent for everyone.
Design analysis

Our team understands the importance of prompt operations and project completion. That's why we always get back to all the requests left on our website within 24 working hours. After contacting you and receiving your design suggestions or mockups, we get to project planning. First, we agree on deadlines and budget — after that, our theme developers get to work.

Shopify theme development

Upon your request, we can create several themes for your Shopify page. Grodas Group works with professional developers and UI/UX designers, so you'll always get a user-friendly theme that is easy to navigate and interact with. We'll also make sure it meets all your business needs and will be appealing to a larger pool of customers.

Theme testing

Once the development phase is behind, we pass the project to our QA engineers. They test the responsiveness, make sure the theme is displayed correctly, and check the usability. Of course, we also fix all the bugs before the release.

Theme launch

After all the issues are fixed, we can release the final product. We offer a support warranty after the launch. Hence, you'll be able to get help with any questions you might have and, if needed, help introduce new features or fix bugs. Our Shopify theme development company can ensure fast responsiveness and a high level of professionalism at every stage of cooperation — even after your shop theme is live.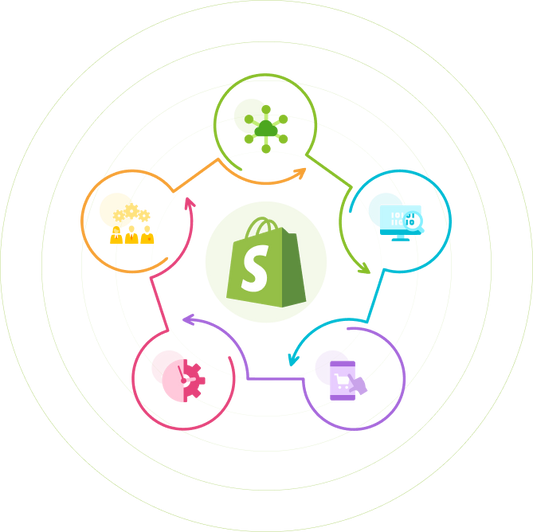 Why Choose Shopify Custom Theme Development by Grodas Group?
Our team has years of expertise working with Shopify systems and development services. We're not just a regular Shopify theme developer with a lack of ideas or creators. We've already launched over a hundred successful projects and have many loyal customers.

If you're still not convinced, look at some other reasons you should choose Grоdas Group as your Shopify theme development agency.
Personalized approach

We value our customers' every need and have the same entrepreneurial mindset that drives you forward. We know how important it is to follow the plan and achieve marketing, sales, and business development goals to ensure constant growth and revenue streams. That's why our team creates themes tailored to your needs and understands how your perfect Shopify page theme should look.

International recognition

Our clients are based all over Eastern Europe. Plus, we're in the region's top 10 eCommerce development companies. Our Job Success Rate on Upwork is 100%. We're not going to stop and planning to gain a stunning reputation far beyond Europe.

Narrow area of expertise

We're not trying to conquer as many niches as possible — we believe that you should be the best in one area and make huge profits out of it. That's why our team's work focuses only on Shopify and eCommerce, and we're among the best out there.

Flexible cooperation options

We at Grodas Group offer outsourcing and outstaffing services. We can also agree on the mixed cooperation model — whichever fits best for you. It impacts the work results in no way.

Personal managers

Our team provides a personal manager who'll only be working on your Shopify customization. That's how we make sure the project management goes smoothly and our teammates don't get distracted by other issues or requests. In addition, managers are responsible for deadlines, progress tracking, and consultations throughout the project.

Professional team

We always strive for perfection — that's why we work only with the top industry experts. Grodas Group deals right with Shopify web development. Plus, our team is among the top-5 OpenCart companies worldwide.
What Our Clients Say
We've worked with dozens of clients over the years and received great feedback on our Shopify theme development services. Trust us — we won't let you down either!
Incredible developers!

They are skilled and have great communication, they explain what they do and what they are working on. They gave me advice, I loved it!

Recommend them!

Thank you very much to the Grodas team for their responsiveness, politeness, professionalism! It is important to note the excellent work of the designer, programmers, and management. The guys are always ready to advise, suggest and find a solution at any time!

Reliable and flexible developers!

I am satisfied with the work of the development team! I would like to note the qualification of the staff, support, and advice at all stages of development! It's nice to work with a close-knit team of people who understand IT! Loyalty in the price range is also pleasing!

Responsibility, sociability!

I was pleased that you treated all requests and suggestions with respect. It's really cool that you can suggest multiple ways to solve the problem - it shows you as experienced developers!

High-quality work!

I've chosen Grodas for high-quality work, decency, honesty, and punctuality. Grodas team not only performs tasks but also offers interesting solutions!
Grodas Group Awards
Our team is proud to have gained international recognition and success in eCommerce. However, it's just the beginning of our journey!

We'd love to share some achievements we've earned on the way:
7

+

years on the market

100

+

successfully completed projects

20k

+

satisfied users
TOP 3%

of world Shopify agencies on Upwork

TOP 10

e-Commerce building companies in Ukraine (Good Firms rate)

TOP 50

custom software development companies (Good Firms rate)
F.A.Q. About Shopify Theme
Development Services
Why Choose Shopify Theme Development?

Shopify customization helps your company stand out and adapt your online shop to your business needs. Most online shops look remarkably similar and unappealing — that's why they're usually not that successful. Designing a Shopify page that speaks for itself is a great way to show your brand's positioning, tone of voice, and how it wants to be perceived by the public. That's why Shopify custom theme development is an excellent option.
What's Your Pricing Model?

Depending on project complexity, developers' level of expertise (junior, middle, or senior), and duration. The hourly rates may vary from $25 to $40. Plus, the price for Shopify theme development services depends on whether you pick outsourcing or outstaffing services. Developers get an hourly rate from a company they started working for as outsourced employees, while outstaffed ones get paid by us.
How do I Track the Progress of my Project?

Our Shopify theme experts work based on Scrum sprints. We usually have one call per week to define tasks for the following days. Apart from this, we share daily updates on the progress. We track our developers' tasks using Jira. However, we're flexible in these terms and can work using the client's framework for more convenience.
How Long Does it Take to Develop a Custom Shopify Theme?

The custom Shopify theme development usually takes 2 to 6 months. The project duration can depend on the complexity of the build and the level of professionals.
How Does Custom Shopify Theme Affect SEO?

We always pay attention to SEO while working on custom Shopify themes. Here's what we always pay attention to while integrating SEO-friendly eCommerce pages:

Theme load speed;
Responsiveness;
Mobile-friendliness;
Valid HTML markups;
Effortless product customization;
Custom metadata.
What are the Differences Between a Custom Theme and a Ready-Made One?

The main point (and frankly, the problem) of implementing a Shopify page based on a ready-made theme is spending minimum costs. That's why most shops look pretty much the same and are not attractive to users at all. Moreover, the level of customization in such themes can be quite low, and this isn't helping your business stand out. 

Developing an original, unique Shopify theme opens wider creative opportunities to the shop owner to make it look extraordinary and memorable. Obviously, there's going to be a greater amount of work done on such projects, but it's totally worth it.
Let's Talk about Shopify Custom Theme Development!
Contact Us